Voice over Internet Protocol (VoIP) has gradually replaced traditional telecoms for many businesses. VoIP for small business has now grown to be an essential technology.
With the rise in hybrid and remote working, VoIP systems have continued to grow in popularity. There is now a wide range of options on the market suitable for different applications and sizes of business.
If you're continuing to use an outdated telecom system or looking for a new way to collaborate across your enterprise, VoIP for small business can be a valuable investment.
To help you keep in touch with the latest VoIP benefits and features, this article outlines the key benefits of VoIP systems and 10 of the most popular options on the market for small businesses.
What is VoIP for Small Business?
VoIP is a communications technology that enables users to make and receive voice calls over an internet connection.
Simply put, it works by converting sound into digital packets of information so that it can be transmitted via internet broadband. With VoIP, conversations are possible anywhere an internet connection is available.
Following the rise in remote and hybrid working, most people will be familiar with systems such as Microsoft Teams that have allowed voice and video calls over the internet – Teams is just one of many software applications that can be categorised as a VoIP solution.
As such, VoIP has become a widely used technology in recent years, especially for small and medium-sized companies in the UK. This has resulted in many businesses replacing their traditional telecom systems such as private branch exchange (PBX) and leased lines to reap the benefits of VoIP.
Advantages of VoIP for Small Business
When it comes to applying VoIP for small business, two different methods are used.
Firstly, VoIP technology is used as an internal business communications tool. Employees across the world can contact each other instantaneously via voice or video, making meetings easier for international organisations or teams working between home and the office.
Secondly, a VoIP phone system is now the preferred method of outbound communication for telemarketing agents. Integration with other software such as CRM systems also makes it easy to marry external customer and client telecoms with management functions.
Customer comms can be tracked throughout the pipeline and follow-up calls, or emails can be made with ease.
Fundamentally, VoIP for small business serves the same function as traditional telecoms, enabling people to contact both customers and fellow team members over the phone.
One of the key benefits of VoIP communication over the internet is that it can tend to be more reliable than phone signals in many areas. Additionally, making calls through VoIP software allows for more transparency, oversight, and analytics/reporting.
In the modern working environment, the advantages of VoIP for small business offer more flexibility and innovation than the comparatively limited applications of traditional telecoms.
7 Benefits of VoIP for Small Business
It's easy to set up, manage and maintain
Traditional phone lines can be difficult to set up and maintain. By comparison, VoIP for small business is relatively easy to install, configure and maintain, even without the help of dedicated IT professionals.
Most VoIP software solutions can make managing your telecoms system much easier, especially when adding new users. Web portals also make adding, moving, and changing system configurations simpler and more convenient.
It increases flexibility and mobility for users
One of the benefits of VoIP for small business is that it allows users to integrate phone hardware and wireless headsets with a wide variety of software systems, such as remote conferencing, file sharing and email.
This flexibility and mobility provide a huge advantage for users who are always on the go, particularly corporate staff who travel frequently. And since long-distance calls via VoIP are relatively cheaper compared to traditional landline or mobile phone calls, it's also a great money saver.
It can limit company expenses
Setting up traditional phone lines within your premises can be costly. Setting up and managing VoIP for small business on the other hand is comparatively cheaper.
Internet voice and video calls between two or more devices are generally free. One of the benefits of VoIP is that communication between different employees and departments will not cost any money if made via your PC or VoIP phone.
Calls from a PC to a landline phone can however have a cost attached, but the rates are significantly lower compared to traditional mobile or landline phone calls.
In terms of the cost of a VoIP service, most are priced per user per month, so you can ensure you are only paying for the number of users you need.
It can be scaled to meet customer demand
It's not easy to determine how many phone lines you'll need, especially when you're still growing as a company. When you're bringing on additional personnel, new offices, or new departments, you will need to constantly ensure that your communications system is up to date.
One of the benefits of VoIP for small business is it doesn't require additional expenses when adding or removing users, outside of any hardware you require such as headsets or telephone handsets.
With this system, you can add a new line as soon as you add a new staff member. And when an employee leaves or transfers, you can just as easily reassign the existing line or remove it completely. You can easily and conveniently scale VoIP systems to meet your needs.
It can enable SMEs to compete with bigger companies
There is plenty a company must do to compete effectively with bigger, more established organisations. Having an efficient and cost-effective communication solution is one of them.
VoIP for small business enables users to manage internal and external communications more cost-effectively and practically.
SMEs will be able to communicate with prospective clients at little to no cost and talk to partners and customers over long distances, remaining competitive with other businesses on an international level.
It helps to increase staff productivity
One of the advantages of VoIP technology is it can improve the productivity of your organisation, allowing users to host virtual meetings, conduct international phone conferences, share important company documents, and more through both voice and video calls.
VoIP for small business continues to advance significantly in terms of voice clarity, so much so that it has become virtually indistinguishable from more traditional phone conversations.
It is rare for VoIP systems to experience distorted, dropped, or lagging calls, making it more appealing for businesses around the world as a consistent and reliable mode of communication.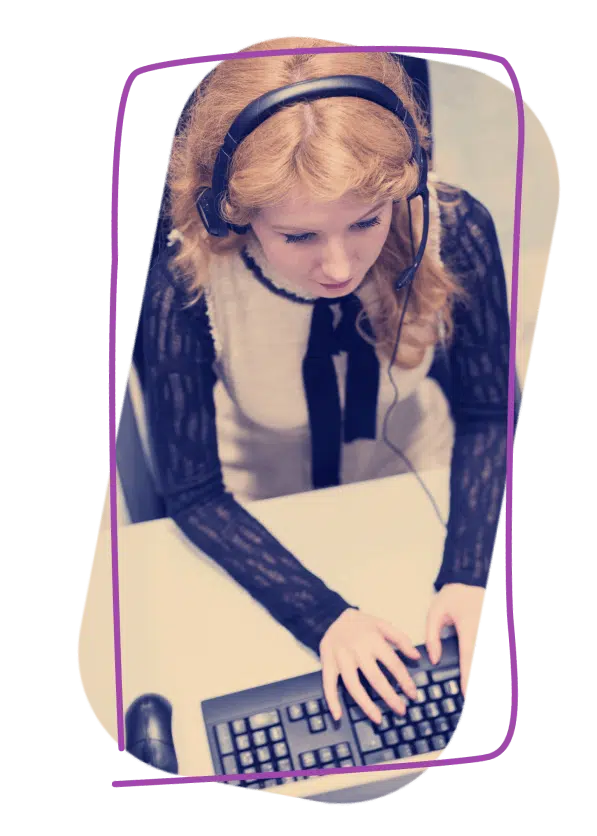 It comes with a wide range of call features
There are many call features that users have come to expect from traditional phone lines.
These same features are also available with VoIP for small business, such as call transfer, call hold, call forwarding, call hunt, auto-attendant phone menus, conference calling, and more.
Businesses still need to find the right hosted VoIP service to get the features and capabilities that they require. However, the bottom line is that you won't be sacrificing anything in terms of call features when opting for VoIP for small business over traditional telecoms.
Disadvantages of VoIP for Small Business
Despite the many advantages of VoIP systems, there are also a few downsides that you should consider when deciding on whether to invest in VoIP for small business.
No internet, no VoIP benefits
For a VoIP solution to work as intended, it requires a stable internet connection with sufficient bandwidth. If the WiFi connection in your premises is unreliable, it may be difficult to see the benefits of VoIP over traditional phone lines.
Latency issues can be a concern
Due to the bandwidth requirements of VoIP solutions, users may sometimes experience lagging, delays, or dropped calls.
One of the benefits of VoIP is that the technology is constantly advancing. As data algorithms become more sophisticated, these problems are slowly becoming obsolete.
Power interruptions could disrupt VoIP communications
When using VoIP for small business, power outages could mean the loss of internet connection and therefore your VoIP communications. Power interruptions are an uncommon issue and outages are often short. However, it's worth keeping in mind as a potential occurrence.
In case of emergencies, authorities and emergency services can find it challenging to trace calls to a VoIP system. Most companies will therefore make a point to maintain at least one traditional phone line so communications can be maintained in the event of a power outage.
Many solutions are not geared toward small businesses
Crucially, the VoIP market can be a bit of a gamble when it comes to finding affordable, scalable solutions for small businesses.
While we have outlined some of the best VoIP for small business later in this article, some solutions that appear to be affordable lack significant functionality unless you're paying for the premium version.
Therefore, it's important to consider your key requirements and ensure the solutions you search for are geared up to scale alongside your growing business.
What Should I Look for in VoIP for Small Business?
A small to medium business with a limited budget may likely feel that investing in new technology is risky.
However, the chances are that VoIP for small business is likely to be more affordable than whatever PBX or leased lines system you're currently using.
The only way to know for sure if a VoIP solution is right for your business is to consider your key criteria, which benefits of VoIP you're looking to leverage, and which providers match these requirements.
When searching for a VoIP for small business solution, it helps to ask yourself the following questions:
Do the options offered by your potential provider suit your calling patterns? If your business tends to make a lot of international calls, it may be worth checking out the current rates for those countries you call most frequently.
Are the rates offered by your VoIP vendor within reason, or are they enough to break your budget?
Are the benefits of VoIP worth upgrading and replacing your current telecoms system?
Does the VoIP vendor offer economical rates at the expense of voice clarity? If your business depends on VoIP to deliver customer service, for example, voice quality should be something worth investing a bit extra in.
The VoIP market is saturated with providers of varying quality, and what might seem like a good deal at first may end up being a bad investment for your business.
We would highly recommend that you take some time to learn which small business VoIP providers are recognised with good reputations and solutions that provide all benefits of VoIP suitable to your budget and requirements.
In case you need some extra guidance, we have compiled a list of 10 popular VoIP for small business.
10 Popular VoIP for Small Business Options
1. bOnline
Price rating: £
Best for: All round comms, built for small operations
Pros:
Pay-as-you-go or unlimited calling options
Free 30-day trial
CRM integrations with Hubspot and Salesforce
Summary:
bOnline is designed specifically for smaller operations and offers 50+ features including a digital phone line, mobile app, pre-set call flows, unlimited reporting, and a reporting dashboard. Setup is quick and easy and while the system is not designed for larger scale telecoms, small businesses can benefit greatly from bOnline's ease of use and robust reporting.
2. 8×8 XCaaS
Price rating: ££
Best for: Scalable, small business integration
Pros:
Free trial for first month
Advanced call management
Custom Branded Video Conferencing
Summary:
8×8 XCaaS is a reliable and scalable VoIP for small business option with a plethora of features, attractive entry-level pricing, and a UI that is easy to navigate. 8×8 also has a variety of hardware leasing options for those integrating traditional telecoms with VoIP for a full CaaS system.
3. Dialpad
Price rating: ££
Best for: Sales departments
Pros:
Great user experience and integrations
14-day free trial
Live call coaching
Summary:
Dialpad provides a fully AI-powered, cloud-based VoIP service to enable both internal business and sales telecoms. Dialpad's voice intelligence software captures key data and analyses calls in real-time to help contact centre managers provide effective coaching and feedback on performance.
4. RingCentral MVP
Price rating: ££
Best for: Flexible integrations & features
Pros:
Range of out-the-box integrations
Auto-attendant and call recording features
Excellent handset support and PBX integration
Summary:
RingCentral MVP is one of the most popular VoIP solutions on the market with a user-friendly interface and functionality. It boasts 50+ features including AI-enabled transcription and call analysis, HD voice quality, and improved video conferencing capabilities. More so than other VoIP solutions, it provides a true, feature rich CaaS platform.
5. Freshdesk Contact Center
Price rating: ££
Best for: Freshworks integration, call centre focus
Pros:
Weekly call volume analysis
Easy setup and
Virtual call centre
Summary:
Freshdesk Contact Center is a VoIP solution designed to integrate with Freshworks' other customer-facing tools, Freshdesk and Freshsales CRM. It allows users to streamline phone conversations and has an excellent feature set suited to call centres needing a low-cost solution, including flexible reporting.
6. Ooma Office
Price rating: £££
Best for: Ease of use
Pros:
Flexible contract-free pricing
Fast setup and easy to use
Streamlined interface across desktop and mobile
Summary:
Easy to setup and use, Ooma Office is designed to be a highly accessible and straightforward VoIP solution for small businesses. Its features are regularly updated and expanded, and the system provides a seamless, flexible experience for companies looking to get started with VoIP quickly.
7. Vonage Business Cloud
Price rating: £££
Best for: Mid-sized businesses, breadth of features
Pros:
24/7 support and 99.999% uptime
Unlimited calls and SMS
Strong API integration
Summary:
Vonage Business Cloud is easy to setup and configure and is ideal for SMEs to large enterprises that require video conferencing alongside landline VoIP calls. It supports a range of functions such as provisioning, reporting, and third-party app integrations and has a reliable connection alongside helpful customer support.
8. Mitel MiCloud Connect
Price rating: £££
Best for: Functionality, similar to PDX systems
Pros:
Bluetooth handset
CRM integrations
Online training for quick setup
Summary:
MiCloud Connect is a cloud PBX/VoIP system with mobile-first design and robust features. It is a highly functional system that is ideal for businesses used to previously using a PBX system. Physical handsets are well supported and optional premium features such as video conferencing make it ideal for mid-to-large sized operations.
9. Berry iPECS Cloud
Price rating: Bespoke pricing
Best for: Reporting & analytics
Pros:
Business specific pricing
24/7 support from dedicated account manager
Robust call analytics and reporting
Summary:
Berry Telecom's iPECS system is a collaborative, award-winning VoIP solution with a wide range of out-the-box features such as instant messaging, auto-attendant, video, and screen sharing. It is heavily supported and built-in analytics and reporting to ensure you're making the most of your system.
10. 4Com
Price rating: Bespoke pricing
Best for: No fixed costs, flexible
Pros:
Cost-efficient service
Portable phone/tablet handsets
In-office training provided
Summary:
4Com's VoIP system comes packaged with its own proprietary hardware, the versatile HiHi tablet phone system. 4Com VoIP packages are bespoke and tailored to your specific needs, which ideally suits companies looking for flexibility and pricing based on fluctuating usage.
Choosing Your Next VoIP for Small Business Provider
Most SMEs would agree that the advantages of VoIP for small business far outweigh the disadvantages, especially in today's highly competitive business landscape.
The key to success is finding the right service provider to suit your specific business requirements and provide the right VoIP benefits.
With the growing number of VoIP providers on the market, it's certainly not easy or quick to find the best small business VoIP provider and get your project underway.
The important first step is to consider the requirements of your business and then set out to discover which VoIP service provider can fulfil those needs on time and within budget.
This is where the procurement experts at YourShortlist can help.
Your VoIP Needs. YourShortlist.
The benefits of VoIP for small business continue to grow as telecommunications technology becomes more and more advanced and affordable.
it's vital you do your research to ensure you choose the best VoIP provider for your business, but this can often be costly and time-consuming, leading to stretched budgets and frustration for buyers.
At YourShortlist, our goal is to make technology procurement simple, transparent, and cost-effective by quickly matching businesses with the right providers so they can begin to reap the benefits of VoIP.
We're all about helping businesses find solutions that will provide value and enable successful growth. We manage a diverse database of over 2400 software partners providing solutions in VoIP, CRM, cyber security, cloud migration, ERP, and more.
With the help of YourShortlist, buyers across the globe have made better-informed decisions on new software, infrastructure, and managed services to improve their business.
Our non-chargeable service includes:
Independent buying advice on the best VoIP for small business
A bespoke shortlist of specially selected partners experienced in implementing VoIP solutions for your industry
Partner background information
Free call-backs from partners with no obligation to purchase
If you're looking to embrace the benefits of VoIP for small business, discuss your requirements with a member of our team and begin the journey towards your free shortlist.
Book a meeting with our team at a time that suits you or call +44 (0) 20 4532 5532 and we can match you with the telecom provider you need.
Speak to a member of the YourShortlist team about creating your shortlist of providers.