With so many Customer Relationship Management (CRM) solutions on the market, how do you choose the right system for your business?
At YourShortlist, our software experts identify CRM partners who are guaranteed to meet all your business's requirements, eradicating the aches and pains of sifting through hundreds of CRM solutions and providers, saving you both time and money.
Contact us today and start the search for suitable CRM providers with YourShortlist.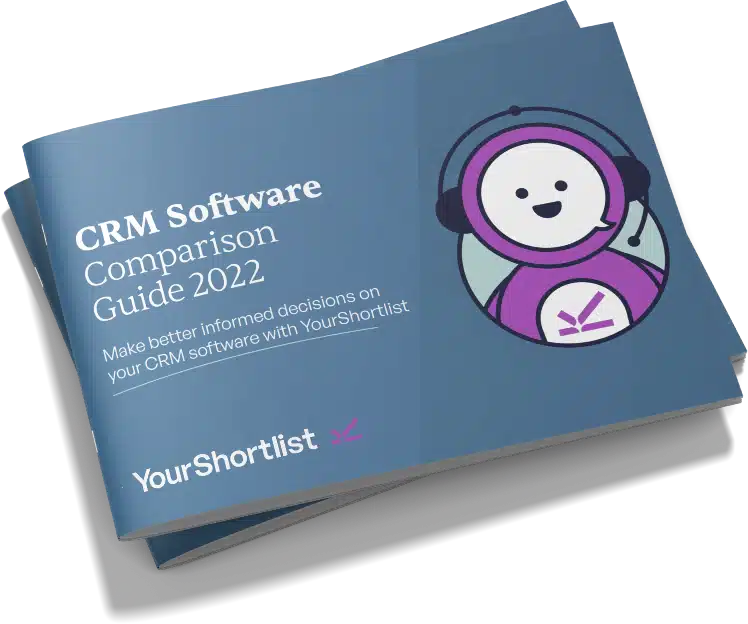 Download your free CRM comparison guide
CRM Providers
CRM software provides an invaluable resource for managing interactions with your current and potential customers. It could and should be a key component of your overall business sales strategy. Helping with both increased sales, acquisition of new customers and the all-important business ethic of customer retention, a CRM can positively impact a company's bottom line and improve turnover.

A proficient system from a professional CRM provider will be essential to effectively organising all of your external contacts, ensuring employees have access to up-to-date information about those clients and that the clients themselves experience high levels of customer service. Essentially, Customer Relationship Management helps to turn the client-facing aspect of your business into a well-oiled machine.

Let's dig a little deeper and uncover precisely what benefits a CRM system can bring to the table.
Benefits of a CRM System
Ask CRM providers about the benefits of their software and they'll bend your ears for hours. And rightly so. The advantages of implementing a Customer Relationship Management system are numerous, and we'd be confident in saying that any successful business puts its system to good use.

First off, the software helps businesses to experience better client relationships. Essentially, the more information you know and remember about a customer, the more they feel valued and cared for. CRMs help you to build a clearer picture of each individual customer, gauge their requirements better and in the long term promote a stronger connection between you and them.

This exposure to more client information also aids your business' ability to cross-sell and forecast solutions that the client might need in the future. The data held in the CRM empowers you and your staff to identify avenues for up-sells and solve client problems far more quickly.

In a world where information is at our fingertips, it makes sense that the information a business holds for its clients should also be easily accessed. A Customer Relationship Management system provides businesses with access to that information, anytime and anywhere. Accessibility counts a lot in today's marketplace.

And here's the number one argument put forward by CRM providers; cost savings. Sure, the initial investment in Customer Relationship Management can be expensive, and the whole process fairly daunting, but the long-term cost benefits are clear to see. The sales team will experience a more efficient and streamlined process, more robust automation is achieved and time is won on all fronts. And as we know, time is money.

That's just the tip of the iceberg. CRM providers will no doubt outline more advantages to using their systems. But just how do you go about finding the most suitable CRM providers for your business needs?
Finding CRM Providers with YourShortlist
If you are looking for CRM providers but you're not exactly sure who to approach first, then YourShortlist should be your first stop.
The process of finding professional CRM providers is a daunting task, and our free consultative service takes all the pressure away from you.
Our team of software experts start by understanding your requirements before creating a short list of potential CRM providers.
As we currently partner with hundreds of technology and software firms across the UK, we have a huge database of varied providers that cater for a diverse range of business software needs.
Presenting you with recommended technology partners helps you cut the cost of searching for software providers, and assists you in entering into a dialogue with only the most suitable CRM providers.
How YourShortlist Works
YourShortlist uses best practices and data insights to make business technology procurement simple, transparent, and cost-effective for buyers.
We efficiently connect our ever-expanding community of technology buyers with technology Partners who can best fulfil their project requirements.
Our Members can trust that their recommended Partners not only meet their needs but have been vetted and reviewed.
Becoming part of our exclusive Members community ensures a dedicated solutions consultant will always be on hand to assist you with any projects.
1
After initial contact, we will gauge your current setup, IT requirements, and stage of procurement. We then begin the process of finding your ideal software solution.
2
We generate a bespoke shortlist of suitable CRM software options from our Partner database. This will be based on your requirements discussed with our consultants.
3
You will receive access to our Members Portal to view Partner information and reviews. You can also opt to receive call-backs from our Partners, with no obligation to purchase.
4
You can receive helpful content to guide you through the buying and implementation process and give insight into the current state of the software market.
5
You can contribute reviews once you've worked with our Partners. You can also connect with our advisors for support in finding and selecting Partners for your projects.
Our completely non-chargeable service includes:
Independent buying advice on the best CRM solutions and providers on the market
A bespoke shortlist of specially selected partners experienced in implementing CRM solutions for your industry
Partner background information
Free call-backs from partners with no obligation to purchase
If you're on the hunt for a new CRM system, discuss your requirements with a member of our team. Begin the journey today towards a free, no-obligation shortlist tailored to your business; YourShortlist
Book a meeting with our team or call us on +44 (0) 20 4532 5532 and we can match you with the software partner you need.